Welcome to DIYfreebies' 4th annual anniversary blog! Join us for an evening of celebration with these topics: Amped Media's President and CEO addresses site concern + Nuitech and Amped Media, Inc. rewarding promos gift sites; 2012 LeadsCon East conference-- who's going? Link list, and more! Have fun...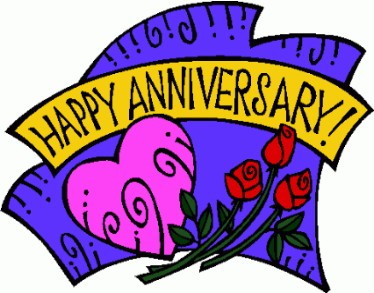 Hello everyone! Allow me to present tonight's 4th annual anniversary blog. What a truly exciting event. I'm thinking back to a most memorable moment since last June. Alright, well, I think that would be the confrontation between CRS and a member. A member appeared at Consumer Rewards Solutions's building in Vancouver to collect payment. CRS told them they were "no longer in that business", and said they would not be rewarded. Did that member go through with the lawsuit? I didn't hear anything else after that, but what I found interesting was the "no longer in that business" comment. Through extensive research and private conversations, that comment was proven false. CRS were paying out, and their gift program still functions to this day. The full story can be found here: "
A night of tricks and treats, Part 1.
" - More on "no longer in that business" comment here: "
Harvest time...
" - My annual favorite is: "
New Year's ball drops...
" - Had fun writing that one! Other favorites are: "A night of tricks and treats, Part 1." from October, "I-Deal customer support addresses DBA and site questions..." from September, and "DIYfreebies' third annual anniversary blog..." from June. The annual highlights: Solving the Nick Brown case, obtaining CRS' new information after Dave's dismissal, and revealing new DIY companies!
Want a look into my blog notes? Below are photos of my notes and "workstation," if you can call it that.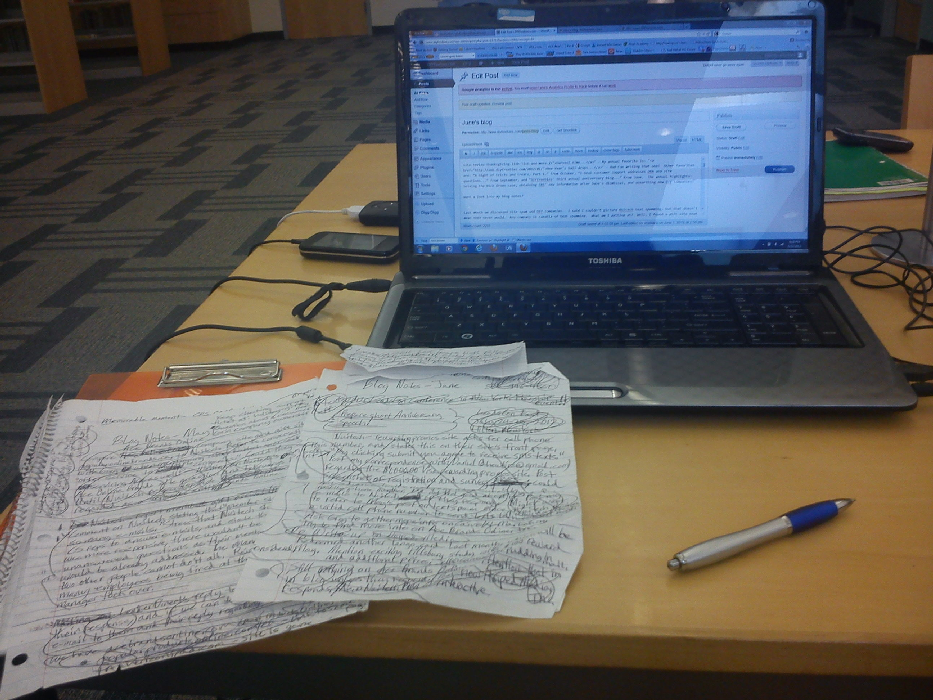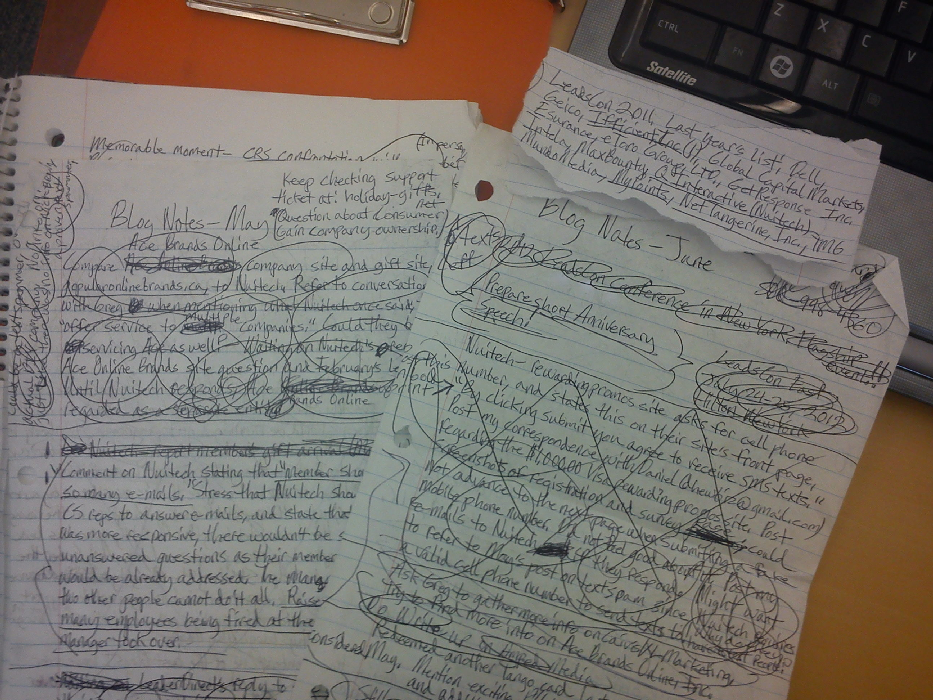 Excuse my penmanship. Woz has messy handwriting! Each entry starts with a blank computer screen, and a bright orange clipboard attaching an empty-paged binder. Its like writing a monthly essay; the thesis opens the blog, the body is written, and it ends with the conclusion. I feel incredibly lucky that this blog has survived so long. Some people stop writing once their material runs dry. But with the freebie/lead generation industry constantly evolving, there is always something to write about! I can't wait for what's to come, and hope we continue to progress as the year goes by. We're approaching half a decade, how exciting is that?! June 16, 2013, here we come...
Last month we discussed site spam and DIY companies. I said I couldn't picture Nuitech text spamming, but that doesn't mean they never would. Any company is capable of text spamming. What am I getting at? Well, I found a gift site that I'd like you all to see. Many of you know that rewarding promos are gift sites managed by Nuitech. Before I go on, please have a look at a rewarding promos site.
gift site: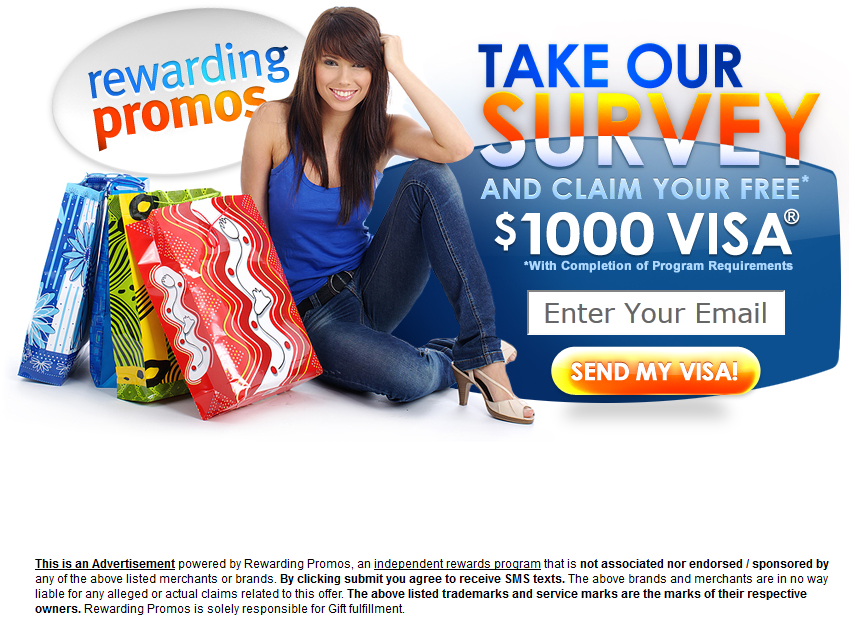 url:
http://www.rewardingpromos.com/?oid=ur03y65j&clk=e60605238333041f568e4e2222bcab4c&s=1717
Survey pages: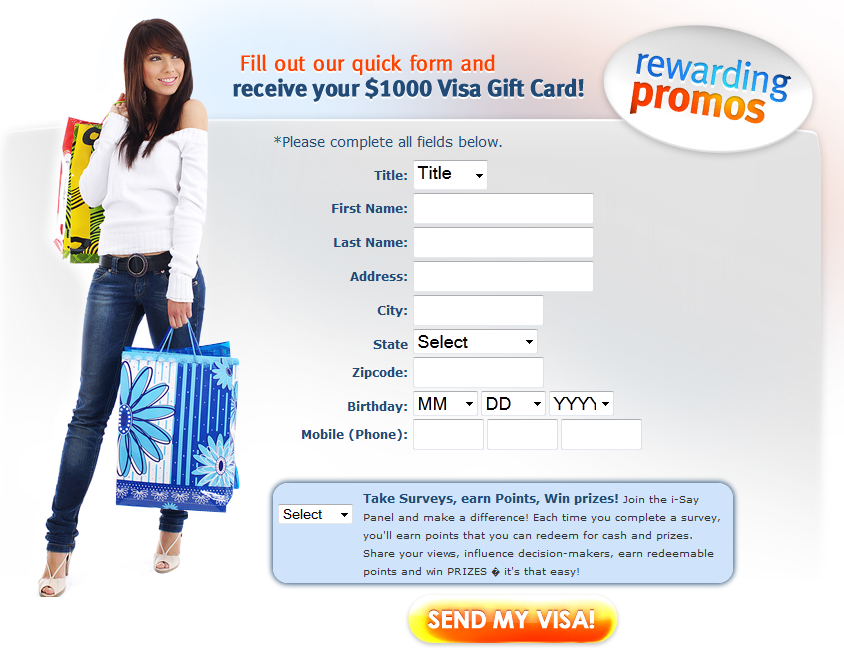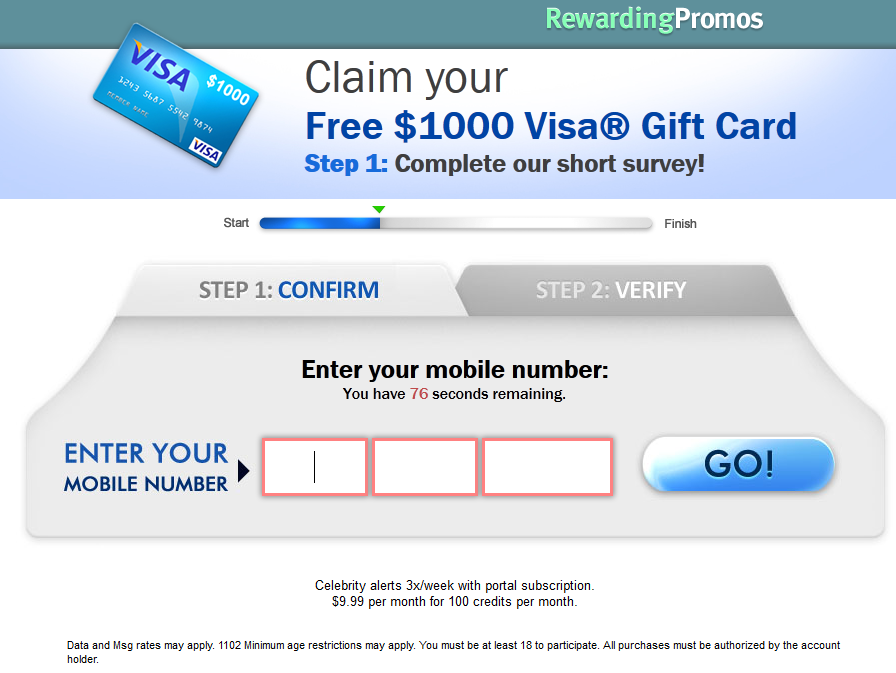 The survey page prompted me for my cell phone number. So I entered a fake cell phone number in instead which resulted in this error: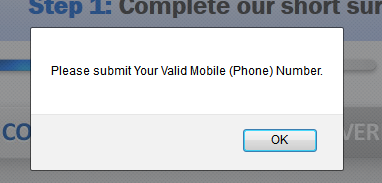 Its logical for it not to work without a valid cell phone number, but I refused to give them my cell phone number. Because of that, I couldn't proceed with the site test. Below is a member's concern about this site and my replies.
Member:
"from: member xxxx@xx.com to: "diyfreebies@gmail.com"
date: Sat, May 5, 2012 at 6:21 PM subject: Re: Inquiry mailed-by: gmail.com signed-by: gmail.com

Hey, thanks for doing that, always better to be safe than sorry.

Quick question:

on your blog you have this link

http://www.rewardingpromos.com/?oid=ur03y65j&clk=e60605238333041f568e4e2222bcab4c&s=1717 - offers unknown, no refs/$1,000.00 Visa gc

I went to check them out, and according to the T&C, you only need to "Complete at least 2 Silver Sponsor Offers (Offers will vary)"

when I entered my email address, the screen changed and it asked for my cell number.

Is it really possible to get a $1,000 G/C with just two silver offers? What's the catch? If I enter my cell number will they bill it with ringtones and downloads?

thanks

member"

My reply:

"from: diyfreebies@gmail.com diyfreebies@gmail.com to: member date: Tue, May 8, 2012 at 4:29 PM subject: Re: Inquiry mailed-by: gmail.com

member,

Thank you for bringing this to my attention. The offer page shows "Step 3 of 3", meaning there should also be a Step 1 and Step 2. I've never seen a 2 offer site with a $1,000.00 payout! That is very rare. Something is wrong; I may send the company an e-mail about this site. As for the cell number, I cannot guarantee that you won't be billed for ringtones and downloads. The site does state, "By clicking submit you agree to receive SMS texts." So maybe you'd only be charged for opening text messages? I know that Nuitech handles the customer service for rewarding promos, and people have been paid on the rewarding promos and reward-aisle sites. So I don't think there is any scamming going on, the site is just iffy. I suggest choosing another deal until we know more about this site.

Let me know if you have any further questions.

Thanks,

wozniack"

I sent the following message to Jonathan Gies, President and CEO of Amped Media, Inc., on Facebook...

My PM to Jonathan Gies:

"me,

Hi,

You don't know me but I blog about the freebie and lead generation industry, and your company, Amped Media, Inc., came up in my research. I recently contacted your company regarding one of your web sites, rewarding promos, but received no response.

My e-mail:

"Hi,

I think something is wrong with your site: ::rewarding promos gift site inserted here:: -- Could you please look at it? According to the terns and conditions only 2 Silver Sponsor Offers are required to earn a $1,000.00 Visa gift card. How is that possible? For a thousand dollars you normally complete 10 offers. The next issue is the cell phone number request. The front page of your site states, "By clicking submit you agree to receive SMS texts." That means people are responsible for any charges that may incur for entering their cell phone numbers in on rewarding promos. But there is concern that the cell phone numbers will be used for more than just text messaging. Can you confute that?

Thanks,

me"

I asked OG Logistics/Nuitech, a company out of Florida, who claimed to handle customer support for rewarding promos and rewards-aisle sites, but they never responded. I am just trying to find out more about this particular gift site, and hopefully give my readers some peace of mind. Unfortunately I was unable to include the link to the site in this PM due to Facebook blocking it. Could I e-mail it to you?

My blog: DIYfreebies.com -- That should give you an idea of what I do. If you can't help me, I'm sorry to have bothered you. I appreciate your time.

Have a good day!

wozniack"

Jonathan Gies's reply:

"Thanks for reaching out. -- Its good to meet you.

I actually visited your blog a couple of times as we were being ripped off by the old ARG, now Ciavis. Anyhow, the verbiage you noticed was a glitch that has since been updated.

In terms of the cell phone numbers, yes, by opting into our service you agree to receive SMS texts. We do not sell or distribute phone information in other ways that are not disclosed to the end user. Should they opt into something further down the path that requires phone information, they may receive calls.

But, should any of your users have any problems with our service, please pass them up through me... I would be more than happy to get things taken care of.

Nuitech does handle our reward fulfillment, they are a separate entity.

Have a good one."

Hopefully Jonathan Gies's response to your cell phone number concerns ease your minds. We carried our conversation from Facebook over to e-mail and conversed a little more. Nuitech never responded after I sent the same message three times, nor did their other department answer my e-mail from April in which I asked if they provided customer service to Ace Brands Online; they acknowledged my initial e-mail but directed me to Q Interactive. Which is why I approached Amped Media, Inc.

Nuitech manages the site, and the bottom of it reads,"By clicking submit you agree to receive SMS texts." But remember, Nuitech does NOT own rewarding promos, they said so themselves. They just handle their customer support. Amped Media, Inc., the company who owns rewarding promos, must generate the spam unless they've left that to Nuitech. Regardless of my opposition toward text spam, I understand why these companies do it; and yes, they may sell, brand, or share your personal information for registering with them. They state that up front. I'm more concerned about unethical companies text spamming than I am with spam itself. Since Amped Media has Nuitech under them, I am not so worried. Now if its a company like Caivis or Acquisis, that's another story. When going through the process of registration and fulfilling a gift program's requirements, you'd eventually find out, if you hadn't already, who was promoting your gift. Those unfamiliar with companies like Caivis and Acquisis may fall victim to their scams in more ways than one. Everybody is going mobile these days. We have cell phones, iPads, and e-readers like Barnes & Noble's Nook and Amazon's line of Kindles; most of these devices are internet-enabled. Text message advertisements are just as bad to inexperienced people if not worse, because if it's an underhanded company textspamming, these newcomers not only lose money on the gift site, their carrier may rack up charges for the texts. And with these companies still having their cell phone numbers, they could spam them numerous times.

Who are Amped Media? Read the write up below to find out...




Amped Media, Inc. is a privately owned company and affiliate/CPA network out of Melbourne, Florida. Amped Media is aimed at offering a better solution for internet marketing publishers and advertisers. The company focuses on CPA and CPS advertising offers which are promoted by its member affiliate marketers. Before launching his business in 2006, President and CEO of Amped Media, Inc., Jonathan Gies, served in the U.S Marine Corps as a 0411 Maintenance Management Specialist in Camp Lejeune, North Carolina. Succeeding the start up of Amped Media, Inc. and his time spent in the U.S. Marine Corps, he attends Full Sail University, a for-profit trade school located in Winter Park, Florida, where he is going for his Bachelors degree in Web Design and Development. Mr. Gies also made the cover of FeedFront magazine, the official magazine of Affiliate Summit, for winning the FeedFront cover contest. His business still thrives in the harbor city of Melbourne, where he establishes and grows brands as an agency and distributes media to the highest quality affiliates and partner base.

Amped Media, Inc. are the real owners of rewarding promos, as such they are their own DIY company. Nuitech only handles their customer support and Fulfillment. Amped Media, Inc. and OG Logistics, LLC. (Nuitech) are separate entities. Please commit that to memory. The official company and address list and official T&C and DBA list will be updated accordingly. I will also create a spot on our forum to discuss Amped Media.

While on the subject of Nuitech, there is a new DBA... See what this member below sent me.

member:

"new nuitech dba? Personal Message member

new nuitech dba?, May 19 2012, 09:57 AM

http://freegiftcardsnow.com/rd_p?p=311004&t=11730&c=&a=

take a look if the link works"

My reply:

"from: diyfreebies@gmail.com diyfreebies@gmail.com to: member date: Thu, May 24, 2012 at 2:52 PM subject: New Nuitech DBA... mailed-by: gmail.com

Hi member,

I am sending this to you by e-mail as I cannot access my A4F account at this time. Please excuse the delay in getting back to you, I hadn't logged in to the forum in some time.

Your message interests me a great deal. I know that Q Interactive is Nuitech, but what I didn't know was that they were using Q Interactive as a DBA! But yes, Q Interactive is a new DBA by Nuitech, so feel free to tell everybody that, and I will make sure to mention this in next month's blog.

I hope you and your family have a safe and wonderful Memorial Day. :)

Thanks,

wozniack"

member:

"from: member xxxx@xx.com to: diyfreebies@gmail.com date: Fri, May 25, 2012 at 9:31 PM subject: RE: New Nuitech DBA... mailed-by: xxxx.com

thanks :) hope u have a great holiday weekend as well"

freegiftcards.com is under Nuitech's DBA Q Interactive. To find a Nuitech DBA, click the "Terms and Conditions" link at the bottom of their gift site's front page. The DBA is listed under the "Effective Date" in the T&C.

New DBA:




This summer LeadsCon East welcomes it's third year, which will be held in New York City at the Hilton hotel on July 24 - 25, 2012. This prestigious event is sure to attract the advertising industry's most dominate companies nationwide. Representatives from 900 companies attended LeadsCon East 2011. Some of them were: Dell, Geico, Ifficient, Inc., Global Capital Markets, Esurance, eToro Group, Ltd., GetResponse, Inc., Intela, TMG, MaxBounty, Q Interactive, Mundo Media, MyPoints, Net Tangerine, Inc. LeadsCon carries on the tradition of uniting brilliant minds from the premier companies in the online customer acquisition and lead generation arena.

Memories from LeadsCon 2011-2012: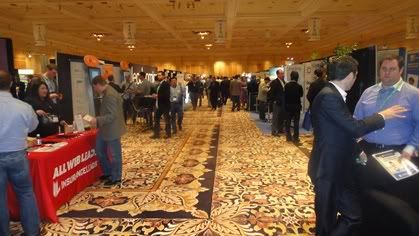 LeadsCon conference room. Credit: InsuranceFiles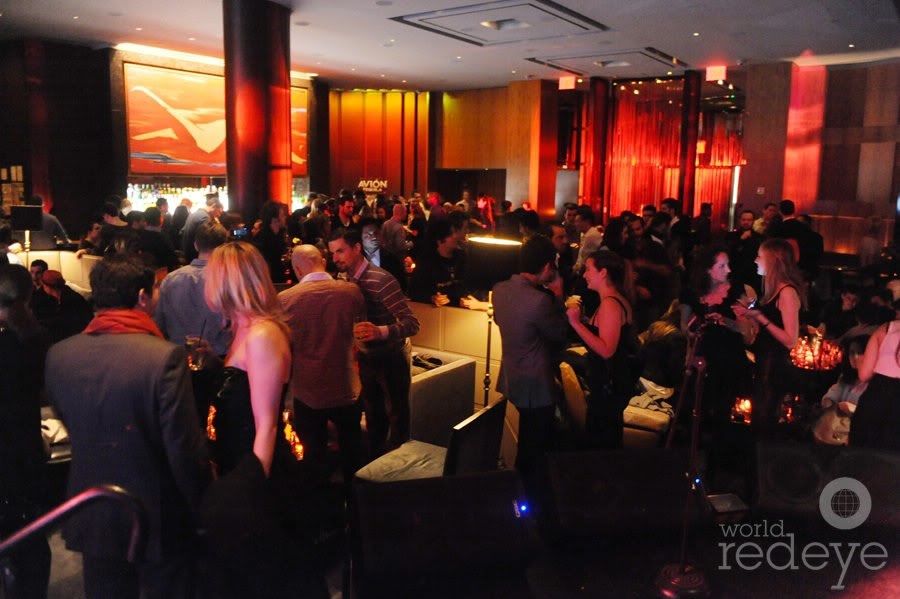 After party at the Stone Rose Lounge on the first day of LeadsCon. Credit: Peter Hamilton




Latin Quarter Nightclub Event. Credit: Peter Hamilton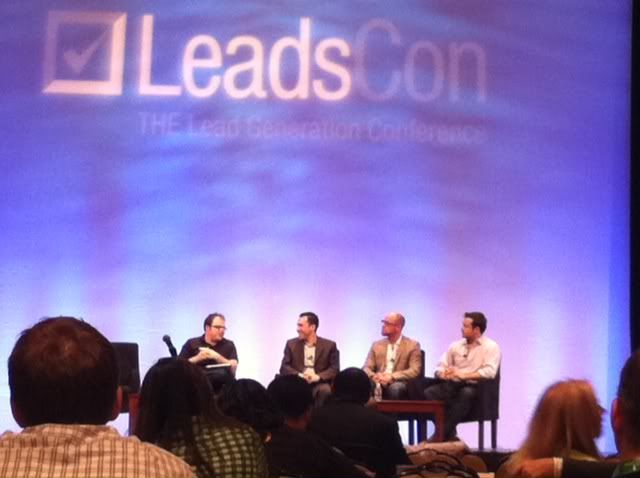 Joey Liner, Co-Founder and EVP of sales at DoublePositive, Jeremy Johnson, Co-Founder and CMO of 2tor, Inc., John Kobs, CEO and Co-Founder of ApartmentList.com, and Jeff Lawson, CEO and Co-Founder of Twilio spoke at the "Is Lead Gen a Dirty Word?" panel. Credit: Jodi Swartz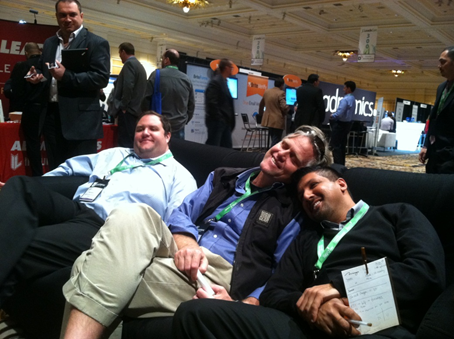 John Nuclo, Stein Kretsinger, and Syed Zaidi happily reclining at LeadsCon. Credit: Jodi Swartz




MediaTrust exhibit booth. Credit: MediaTrust




MediaTrust exhibit booth. Credit: MediaTrust

Some video footage from LeadsCon West 2012...



Sean Fenlon and Joey Liner, co-founders of DoublePositive Marketing Group, at LeadsCon Las Vegas 2012.



Influence People CEO, Murray Newlands, interviews author and TV personality Matthew Lesko from LeadsCon 2012.



Murray Newlands interviews Steve Hall from AdRants at LeadsCon 2012.



Murray Newlands interviews Josh Duiker from Leads360 at LeadsCon 2012.

I've blogged about these companies from LeadsCon East 2011: Ifficient, Inc., TMG, Q Interactive, MyPoints, Net Tangerine. Who will be at LeadsCon East 2012? Nuitech? Ifficient? What about past speakers Paul McConville, SVP of Sales and Marketing at TARGUSinfo, and Jeff Solomon, Founder and SVP at Leads360, Inc? LeadsCon has always had an excellent line up. Anyone interested in attending should go here: http://leadscon.com/leadscon-east-2012/register/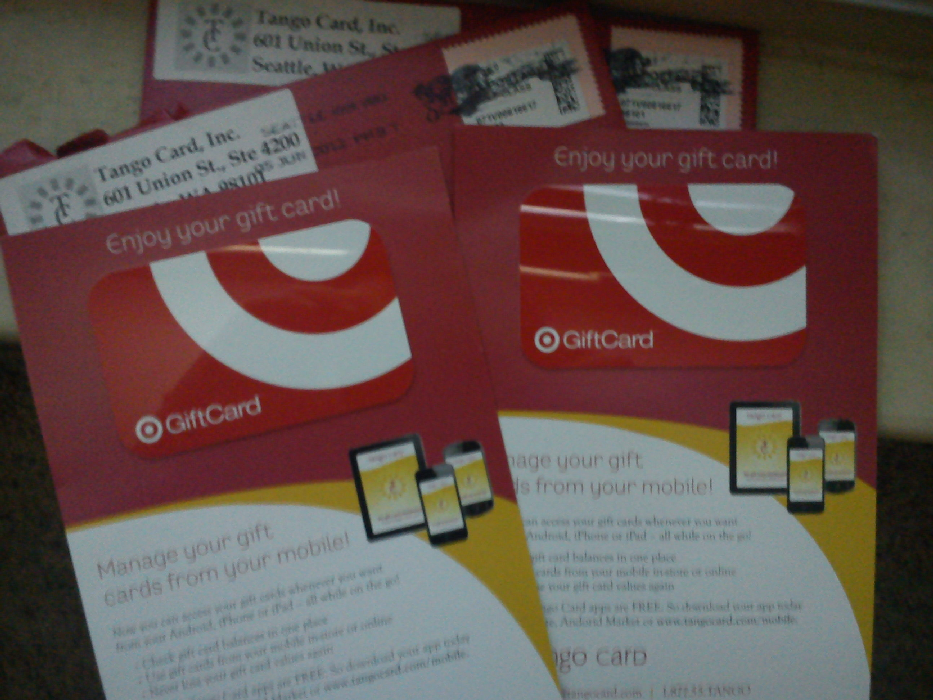 Cashed out on two $25.00 Tango Cards from Toluna this month, which I redeemed for $50.00 in Target. The other image is of a $170.00 payment that I received from a marketing research panel for participating in a 2-week study about Pillsbury ready-to-bake cookies and cinnamon rolls. My favorite task during this study was creating a storyline and tagline for a Pillsbury commercial. I would love it if they actually used my ideas for a commercial! They seemed to like what I'd done. But yeah, each participant had to fulfill each task, record into a diary, and answer questions from Spring Research's own, Tom Holliss. It was really great working with Tom! He did an outstanding job as project manager. Thank you to everyone at Spring Research for the opportunity to partake in the Pillsbury study. It was fun.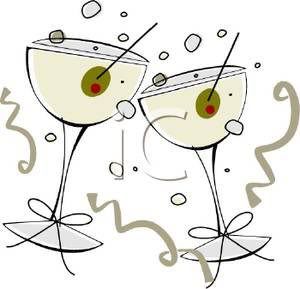 *links 'n such*

I-Deal--

http://www.consumersavingcenter.com/?session_id=a182651aa77c11e1b2fd35803a697067 - 8 offers, 2 refs/HP laptop

Nuitech--

http://gameconsolerewards.com/rd_p?p=325671&t=19509&c=&a=20943 - 8 offers, no refs/$250.00 GameStop gc + Diablo III game

producttestpanel--

http://branddealsonline.com/bww/index.php?lid=bww_14056_5950&add_offerid=79798751&addomain=rsgauge10.com&addomain_id=62&uniclk=true - 13 offers, 3 refs/$500.00 Buffalo Wild Wings gc + misc. gifts

http://ebay.mygiftcardsnow.com/?t_id=9jr1-n8AAAEAAFuFhYYAAAAG&spid=260063&sub=CD1&uid=448639525&pre_q=&email=&exit_p=&id_p=1525706&oon=263 - 13 offers, 3 refs/$500.00 Ebay gc + misc. gifts

http://webbrandrewards.com/srs/index.php?lid=srs_14056_5950&add_offerid=443352&addomain=avcounter10.com&addomain_id=67&uniclk=true - 13 offers, 3 refs/$500.00 Sears gc + misc. gifts

http://branddealsonline.com/zax/index.php?lid=zax_6046_CD2251&add_offerid=579774&addomain=promolnk.com&addomain_id=89&uniclk=true - 13 offers, 3 refs/$500.00 Zaxby's gc + misc. gifts

Amped Media--

http://www.rewardingpromos.com/?oid=ebpcruyv&s=1717 - offers unknown, no refs/$1,000.00 gas card

Our anniversary blog has come to an end. We covered the 2012 LeadsCon East conference, Amped Media, Nuitech, just all sorts of stuff. What are we doing this summer? I plan on reading and swimming. I never have much time to read due to my busy schedule, but I'll make every effort to. Woz also would like to start a new DIY site. Can you believe its been nine months since I did one? So I'm making freebies another summer activity. Enjoy the start of summer everyone. If you have any questions, please do not hesitate to contact me. I will do my best to help you.

See you next month...

wozniack