Springtime blog with 2015 Ad-tech convention in San Francisco; newgiftdepot.com/topbrandgifts.com investigation still ongoing; more interaction with The Popcorn Factory and $25.00 gift certificate; RewardZone USA payment; blog discussion and the future of DIY and referral-based sites; springtime link list. Get out your planting gloves...
No new developments in the newgiftdepot.com/topbrandgifts.com case but it is still ongoing. Freebie Direct, the name which may be in connection with their gift sites, remains of interest and this mystery company is being closely monitored. My written letter to this company was returned, which is not good since there is no other mode of communication. Please read December's entry to see where we left off with newgiftdepot.com/topbrandgifts.com:
Wintry mix, Part 1...
-- I need something to go on that will get me closer to revealing their identity. I need a clue, just something.
While on the subject of DIY, I'd like to discuss this industry's future as well as talk about our blog. This is a dreaded subject, but it really should be addressed now rather than later. From my observation, the freebie world has slowed down quite a bit. FiPG hasn't been around for a very long time and anything4free.com, A4F's forum site, has errors and not much trading happens there anymore. Trainn are still productive these days but let's face it, trading is not what it used to be. Remember how active it was in 2009? Something happened within the last 2 years that changed everything. Through social media and private conversations, people have said they just don't have the time for trading and DIY or even the internet anymore. Which I fully understand as I have found it difficult to make time for it myself. Below is my exchange with Melmarie regarding the A4F site issue and forum management.
My exchange with Melmarie:
"Hi Mel,
How long has the site been experiencing technical difficulties? Do you know when it will get fixed? Also, where are all the other mods? Twon is still helping out but I noticed that Eric's mod status was gone. I know he has been in school, so I figured that might have something to do with it. It seems that as we get older we get busier. I haven't posted my blog for months now due to personal issues that sprung up now I have to move our blog over to somewhere else before the data is erased: http://www.diyfreebies.com/current-situation/ - It seems like one thing after another. =T
Anyway, if there is anything I can do to help until you guys out just let me know. At least until the site is running smoothly. Is there much freebie trading going on? I-Deal have had some good sites. Mezianne sent me a link but it had a referral by the time I got around to it! So I am looking for more sites. That's something else... I can't post in the DIY section. Is it possibly for us to see if someone like Wes could help?
Sorry in advance for asking so many questions. Its just been a while since I have been active on the forum and things are so different now.
Thanks,
wozniack"
Melmarie's reply:
"Hey Wozniack,
It has been experiencing problems for a long time. Eric stopped doing A4F because of real life getting in the way. I completely understand that! There are many things wrong with the forum, but fixing them might break it more. I don't know coding enough to figure it out. Eric said some suggestions, but they didn't work. :( Wes thinks that it is so outdated that things with break more with updates. :(
I need a new DIY site. I haven't done a freebie in forever!
Mel"
My reply:
"Hi there,
If I knew how I would go in and fix it but, like you, coding is not my area of expertise. Rather than fix it, I wonder if we should start fresh with a new forum, have Wes back up only the content (threads, blogs, etc.), then upload everything to the new forum. It can be done because on another forum I modded, the entire site crashed, but the conversations were saved on a hdd copy and the site's admin uploaded it to the new forum. I think the admin had to pay for the hard copy though. That's just a thought.
I'll let you know if I find any non-referral I-Deal sites. Its been a while for me, too... I'm getting the DIY itch!! haha :)
Thanks,
wozniack"
Melmarie's reply:
"Thanks for the thoughts! I definitely think it could work too.
Let me know if you find anything. I want something free! LOL
Mel"
If anybody has any ideas for the forum please let me know! I would love to see A4F back on track again. As for our blog, there are some concerns. One being a lack of writing material. Years ago, there was so much to research that I was juggling up to 3 and 4 companies at once! Now, I find myself investigating only one company with no good leads. Investigations and company correspondence make up for a large portion of this blog. I can write about marketing conventions and whatnot but the blogs will be shorter. I have written short blogs in the past that were successful. As long as there is content to put with our link list it should not matter. My other concern is the timespan between each blog. After taking a year off, writing proved difficult and I had to get back in "DIY mode." That meant going back over terms and researching new findings. I would be lying if I said I hadn't investigated during my time off! *wink* I had to because I communicated with companies and helped members via e-mail. Probably a good thing so I wasn't completely in the dark when I returned. Writing is a gradual process but its getting better; my fluidity is slowly coming back.
I will hire a ghostwriter if my life ever interrupts this blog. At times, I seriously considered it due to health issues and there always being a conflict in my schedule. I do not want this blog to end after it's 7-year run. We need a place for DIY and that is DIYfreebies.com -- DIY is still active with I-Deal, RewardZone USA, Nuitech, and Amped Media paying out. Check out my $1,000.00 payment from RewardZone USA below!
Enlarge photo:
http://4.bp.blogspot.com/-aqMqeQ46-Lk/VLCFkGPY6KI/AAAAAAAAAao/GmaBHeZPA_A/w1023-h601-no/rewardzonegc1.jpg
My timeline with RewardZone USA:
Nov 27, 2014-- Registered and did my offers in one sitting. Only 5 out of 10 instantly credited, meaning I would have to get manual credit.
Dec 3, 2014-- Did 2 make up offers. 1 credited, bringing my total to 6. I sent them all 4 confirmations.
Dec 4, 2014-- They approved my order confirmations, and e-mailed me my claim form the same day.
Dec 8, 2014-- My renewed I.D. arrived in the mail, and I sent back my forms and photo I.D. copy after midnight.
Dec 9, 2014-- RewardZone USA received my paperwork and photo I.D. scan and told me to wait 2-4 weeks for my reward.
Jan 9, 2015 -- Happy New Year to me!! My gift cards arrived in the mail! So happy.
I have to thank margarita and Al from A4F for their help. I had never done RewardZone USA before and they guided me through the process. Thanks guys. Also, another member just received his $1,000.00 profit from RewardZone USA and he has allowed me to share his experience below.
His e-mail:
"from: member

to: diyfreebies@gmail.com
date: Mon, Mar 16, 2015 at 10:47 AM
subject: DIY - Just received $1k from RewardZoneUSA!!
mailed-by: xxxx.com
signed-by: xxxx.com

Hey wozniak, This is member, I posted on your website recently, and have also been a member at A4F and FiPG for numerous years (almost a decade?? sheesh). Just seeing if you have a 2nd go to that I should try, or if you are still into the scene at all. Your website seemed to be the best place on the 'net right now for DIY! Excited to get back in the game. -member (username)"

from: diyfreebies@gmail.com
to: member
date: Mon, Mar 16, 2015 at 2:28 PM
subject: Re: DIY - Just received $1k from RewardZoneUSA!!
mailed-by: gmail.com

Hi member,

Did you post on diyfreebies.com (Blogspot), or was it on anything4free.com? I ask because I cannot find your comment. It has been almost a decade for me as well. Hard to believe it has been that long. I am in the process of writing this month's blog; there was a delay in posting this month but it should be out soon. Once I have completed the writing process, I will start my link hunt. If I find any good I-Deal sites I will let you know.
I know you can only do one gift per year with RewardZone USA. So I have to wait until November to do them again. I received two $500.00 Visas from them on January 9th! I hadn't done a DIY in a couple years, so imagine my excitement. :)) Did you receive your $1,000.00 profit from them today? Congrats!! Is it OK by you if I post about you getting paid by RewardZone USA? I will be posting my proof pic and timeline for RewardZone USA in my blog and would like to share your experience as well. :)

Thanks,

wozniack"

His reply:

"from: member
to: "diyfreebies@gmail.com"
date: Fri, Mar 20, 2015 at 9:42 AM
subject: Re: DIY - Just received $1k from RewardZoneUSA!!
mailed-by: gmail.com
signed-by: gmail.com

Hey woz,

I haven't posted yet on your website, but I'll get around to it soon, it's been a busy week. And yup, I received the $1,000 late last week I believe, it only took around 4 weeks start to finish! Amazing timeline considering the last DIY I did was Brandarama I believe, haha.

I found a few other links online when I was searching (before I came across your site), so when I get home and dig through them I'll shoot some over to you, and post them on the forum, in case any of them are legit.

And yeah, feel free to post about me receiving the reward! If only they allowed more than 1 reward per year...haha, oh well.

member"

Congrats to this member on their reward! So nice when payment reports come in. Thanks for letting me share that with everyone. :)

I thought I was through with The Popcorn Factory but apparently not, haha... The $6.00 refund they were supposed to give me never showed up on my card. I messaged them several times about the refund, but it all worked out and with a surprise gift in the end! See below.
My first message:
Your question is below and was sent to us on 11/24/14 at 4:15:06 PM:
Hi,
My order for the Fall Colors Sampler was only supposed to be $11.50 as per the sale price. Before I submitted my order, it showed $11.50 and my order confirmation shows $11.50. But my bank statement shows I've been charged $17.50. Its only a difference of six dollars, but I hate being misled by thinking I'm getting something at an amazing price and then be charged more for it later.
I have included my original order confirmation for your review. I wanted to bring this to your attention so you could possibly prevent this from happening again to other customers.
Thanks,
me
Their reply:
Dear me,
Thank you for contacting us.
Please accept our apologies for the error made on this order. Upon review of your account, I do show a total charge of $17.50 for your order. I have refunded the difference, bringing the total back down to $11.50 to your card, which you will see on your next credit card statement. Again, please accept our apologies for this error.
If you have any other questions or concerns, please do not hesitate to contact us at the address listed below.
Sincerely,
Brie Buyaky
The Popcorn Factory
service@thepopcornfactory.com
My reply:
Your question is below and was sent to us on 11/30/14 at 5:03:28 PM:
Hi,
I was just wondering about how long refunds typically take? About 5 to 7 business days? I ask because mine hasn't showed up yet on my card.
Thanks,
me
Their reply:
On Sun, Nov 30, 2014 at 6:10 PM, The Popcorn Factory wrote:
Dear me,
Thank you for contacting us.
Our refunds typically take anywhere from 7 to 10 business days. Your credit was issued on 11/24/14 which would mean it will show in your account on or before 12/05/14. Thank you for your continued patience.
If you have any other questions or concerns, please do not hesitate to contact us at the address listed below.
Sincerely,
Lora Stevens
The Popcorn Factory
service@thepopcornfactory.com
My reply:
Your question is below and was sent to us on 12/11/14 at 4:19:33 PM:
Hi,
My credit never showed up on my card. What do I do?
Thanks,
me
Their reply:
On Thu, Dec 11, 2014 at 3:39 PM, The Popcorn Factory wrote:
Dear me,
Thank you for contacting us.
I apologize that you have not received your refund. I have sent a request to our Accounting Department to process the credit immediately. Your credit card will have the credit posted to it in 7 to 10 business days. Please accept our apologies for any inconvenience.
If you have any other questions or concerns, please do not hesitate to contact us at the address listed below.
Sincerely,
Shavon Thomas
The Popcorn Factory
service@thepopcornfactory.com
Your question is below and was sent to us on 12/23/14 at 11:06:26 PM:
Hi,
I has been well over 7 to 10 business days. Could you please look into this for me again?
Thanks,
me
Dear me,
Thank you for contacting us.
First of all, I'd like to sincerely apologize for your long wait for your refund. I have taken quite some time reviewing your order and its history so we can get you taken care of. There seems to have been an error in processing your refund on our end, not yours. I've reprocessed it and even had my manager check to make sure it was done correctly since you've been waiting so long. I am sorry to say it may take 7-10 business days from today's date to reflect on your statement. I wish I could make it faster for you but I appreciate your patience! Because you've been so patient and because of how sorry I am it's taken us so long, I am issuing a $25.00 gift certificate to be sent to your address. This may take 10-14 business days to get there but it is issued and just waiting to be processed and sent. Our customers satisfaction truly is very important to us here at The Popcorn Factory and again, I am sorry for any inconvenience you may have been caused.
If you have any other questions or concerns, please do not hesitate to contact us at the address listed below.
Sincerely,
Jessica Hannon
The Popcorn Factory
service@thepopcornfactory.com
My reply:
Jessica,
Thank you so much for assisting me with this issue. I appreciate your help and the $25.00 gift certificate very much.
I wish you and The Popcorn Factory a wonderful holiday...
Thanks!
me
I'm a patient person, so I did not mind waiting for a 6 dollar refund, lol. I kept pressing them though because I knew something was wrong, and I didn't think it was on my end. Not only did I get my refund, they gave me a $25.00 gift certificate for the wait!! Talk about excellent customer service. They are just as professional over the phone as they are through e-mail, too. I am still enjoying the popcorn; the tins don't expire for about 8 months;and have an extra tin I need to give away. I may use the $25.00 certificate on their after Easter sale through their other retailer. They're affiliated with 5 stores and I think I can use the certificate at any of them. If you are ever in need of a gift, please check this company out. They've been in business since 1979, and sell the best popcorn and candy. Thanks again, Popcorn Factory...
Its been a while since I posted about Ad-tech or any marketing convention for that matter. But I would like to discuss this year's Ad-tech convention in San Francisco, CA. It takes place at the Moscone Center in San Francisco, California on May 20-21, 2015. Some of the companies in attendance: Advertise.com, Inc., AffiliateManager.com, American Express OPEN, CAKE, Clickbooth, Fulfillment.com, Go2mobi, LogMyCalls, MaxBounty, Inc., Triangle, YTZ International.
Breakout sessions: May 20-- "Beyond Millennials: Generation Z and Where They Are Taking Marketing" with Ivy Esquero, Senior Consumer Insights Manager at Microsoft; "The Rise of New Audience Platforms" with Daniel Bernstein, Head of Sales at deviantART, Ron Martino, Producer and Director at deviantART, and Omri Mor, Founder & CEO at ZIIBRA. May 21-- "Keynote Presentation: New Consumer Journeys >> New Product Roadmaps" with Sridhar Ramaswamy, SVP of Ads and Commerce at Google. These sessions I would like to see.
Check out these photos from last year's event...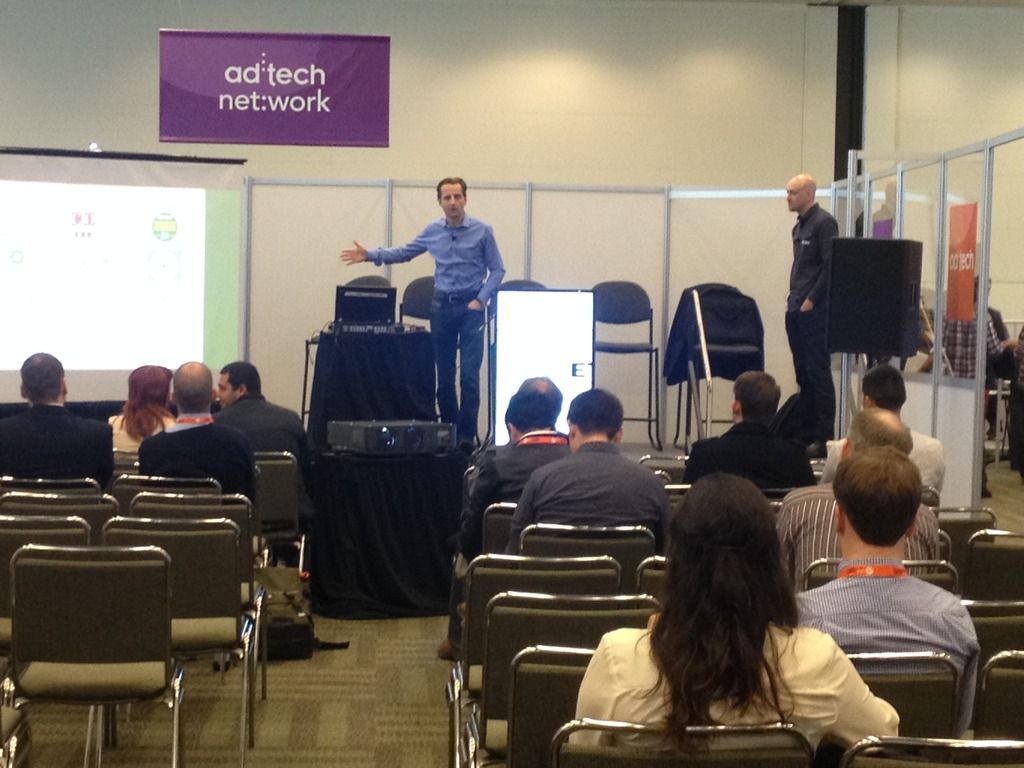 Mike Hummel, CEO of ParStream, presenting with Dave Stewart, Founder and CTO of CAKE Marketing at Ad-tech 2014.
Enlarge photo: http://i1108.photobucket.com/albums/h405/diyfreebies/adtechcake1_zpsz2fgwzgi.jpg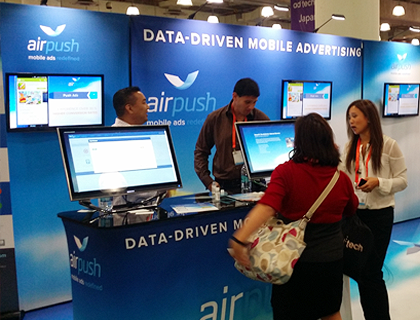 Airpush at Ad-tech New York in 2014.
Enlarge photo: http://i1108.photobucket.com/albums/h405/diyfreebies/adtechairpush1_zps2zkdunxp.png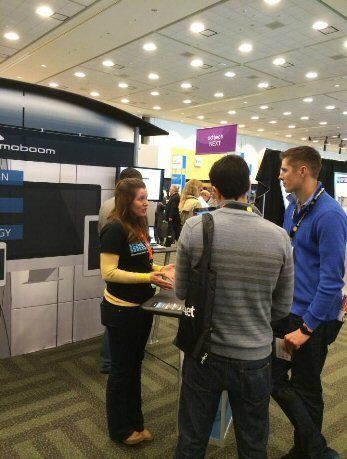 Moboom at Moscone Center in San Francisco, CA in 2014.
Enlarge photo: http://i1108.photobucket.com/albums/h405/diyfreebies/adtechmoboom2_zpsvb3kwtnm.jpg
My earnings: $10.00 check from Clorox; $100.00 Wal-Mart eCard, $10.00 Tango card from Toluna; $50.00 Wal-Mart gift card, $50.00 Visa gift card from MyView;$148.20 in Paypal, $51.75 in amazon from SurveySpot; $10.00 amazon gift card from SurveyScoutResearch; $75.00 in Paypal from Media Insiders; $25.00 gift certificate from The Popcorn Factory; $11.19 in PayPal from ebates; $25.00 amazon gift card from an independent study. For more on these survey panels and points incentive programs, please contact me! I'm happy to help: diyfreebies@gmail.com



This concludes March's entry. We covered a lot in this blog, so I'm happy with it. I'm excited for another year of DIY sites and surveys. Always fun to receive that check or gift card in the mail! Love this time of year when springtime rolls around. Looking forward to Easter as well. Although I'm too old for egg hunting, I still enjoy the candy, the smell of flowers in bloom and sunny weather. It makes me smile. What do you like about spring? :) I'll have our springtime link list done by midweek. I have been swamped with work, but my next order of business is getting that done.
If anyone needs anything, please contact me: diyfreebies@gmail.com
Take care,
wozniack