Leprechaun scatters lucky shamrocks over Product Test Panel's incorrect 1099s-- steps given to resolve issue; Nuitech member returns with gift status + wozniack's letter to Nuitech and new DBA; anonymous source speaks to CRS and has positive results. Spread the cheer...
Anyone who has done Product Test Panel in the last year, listen up! The company reported their prize amounts in the wrong box on Form 1099-MISC. To learn more, please read what these two members said...
Member #1:
"Surprise, surprise.
I received my 1099 form from PTP today, and they reported my prize as non-employee compensation (Box 7) instead of other income (Box 3). Box 7 is supposed to be used only for services performed for a company (say, as an independent contractor) and subjects me to a self-employment tax, which could considerably screw up my taxes. Of course, if it's left in Box 7, PTP gets a windfall essentially for purposely reporting it incorrectly. I remember iDeal tried to do the same thing a few years ago until enough people complained, and it was changed. I already called the number on the form and left a message, and I will continue to contact them until it's fixed. Otherwise, I'll have my accountant take care of it. But I just thought I would let you know that they're continuing to try to screw me over."
Next comes an e-mail I sent to Member #2 concerning Member #1:
"from: diyfreebies@gmail.com diyfreebies@gmail.com
to: xxxx@xx.com
date: Thu, Feb 9, 2012 at 4:08 PM
subject: PTP 1099 form...
mailed-by: gmail.com
Hi member,
Did you receive your 1099 from Product Test Panel? Did they put the amount in Box 3 or Box 7 on your 1099? I ask because a member who I helped two months ago had problems with the company, and has recently received his 1099 form with the amount in Box 7 instead of Box 3. I'm trying to find out if they purposely did this to him, or if it is being done to everyone who did PTP. I-Deal pulled the same stunt a few years ago but after enough people complained they changed it. Even Active Response Group made this error: "
Celebratory anniversary blog...
" <--- I posted about this woman's experience here, she never even worked for them, haha...
Anyway, just thought I would ask since you successfully completed them last year. If they are doing this to everyone, then it's good that people know so they can take action.
Thanks,
wozniack"
Member #2's reply:
"from: xxxx@xx.com
to: diyfreebies@gmail.com
date: Sat, Feb 11, 2012 at 8:59 PM
subject: Re: PTP 1099 form...
mailed-by: xxxx.com
I'm sorry it has taken me a couple of days to get back to you. Yes I received a 1099 from PTP and it was in Box 7 (Non-employee compensation) which I don't believe is correct. I still haven't made the donation I promised but I will! Do you have any new information about CRS? I would like to do another site but I'm not sure if I should. On a side note...Nuitech has been a little shady - I mailed in all of my confirmations and they said they did not receive them....I then faxed them and they were able to approve my account....THEN they "lost" my redemption form even though I had tracking to prove it was delivered. I had it re-notarized and they did finally receive it and I did get my gift - $500 worth of Chili's cards...ha ha.....I was hoping for cash. I was just curious if anyone else was having problems with them.
Thanks,
member"
If your 1099 form was misreported, please follow these instructions:
"
Topic 154 - Form W-2 and Form 1099–R (What to Do if Incorrect or Not Received)
If you do not receive your Form W-2 or Form 1099-R by January 31st, or your information is incorrect, contact your employer/payer.
If you do not receive the missing or corrected form by February 14th from your employer/payer, you may call the IRS at 800–829–1040 for assistance. You must provide your name, address (including zip code), phone number, Social Security Number, dates of employment, your employer/payer's name, address (including zip code), and phone number. The IRS will contact the employer/payer for you and request the missing form. IRS will also send you a Form 4852 (PDF), Substitute for Form W-2 or Form 1099-R, along with a letter containing instructions.
If you do not receive the missing form in sufficient time to file your tax return timely, you may use the Form 4852 to complete your return. If you receive the missing or corrected Form W-2 or Form 1099-R after you file your return and a correction is needed, use Form 1040X (PDF), Amended U.S. Individual Income Tax Return. For additional information on filing an amended return, refer to Topic 308."
source:
http://www.irs.gov/taxtopics/tc154.html
That's from IRS.gov. Prize amounts should be reported as other income in Box 3, not as non-employee compensation in Box 7. Individuals who received incorrect forms are encouraged to contact the IRS at once.
To begin our Nuitech discussion, we'll start with an update on this member's Nuitech gift. Our correspondence is in Part 2. of February's blog: "
DIY rose bouquet delivery, Part 2.
" -- Below is our recent exchange.
Member:
"Well, I haven't heard anything since Monday. I've sent them probably at least ten emails asking for some sort of verification or confirmation of my new documents I sent in. I haven't heard anything at all. Pretty lame. I think they are just done with me at this point. But, they never said I wouldn't be getting my gift or anything. So, at this point, I'm not sure if they will ever respond to my emails again. Pretty lame. They won't even tell me No. I wish there was some way to get a phone number for them. I've got their fax number - 9543647011. I actually just faxed them all of my emails and credit card statements again just to see if they would respond"
Member:
"Interestingly enough, they just emailed me after I emailed you. This is almost the same email they sent me on Monday. But, I already sent this info into them on Monday. So, It's kind of lame they are asking me for it again and saying I haven't sent it in yet. I just faxed them like 30 pages of email confirmations and credit card statements before I got this email. So, maybe I'll try just sending the few pieces of info they want, again. Funny they told me to stop emailing them so much, huh? Maybe they should just give me my laptop and they won't hear from me at all. How's that? Haha
--- On Fri, 2/3/12, Consumerincentiverewards Support
wrote:

> From: Consumerincentiverewards Support
> Subject: In response to your message
> To: xxxx@xx.com
> Date: Friday, February 3, 2012, 12:44 PM
> Dear member,
>
> Thank you for your inquiry. Please stop sending so many
> emails in a day.
> As soon as we receive your information we review it and get
> back to you.
> Now, we have emailed you twice asking for more information
> and you are
> not providing it. Please send us ONLY:
>
> - Welcome email for Valu Pass and Zbiddy with your name and
> date on it
>
> - Any second or subsequent charges on your bank statement
> for Valu Pass,
> Internet Profit System and Zbiddy. If you do not have second
> charges
> please send us an email or screen shot with your name and
> date on it
> showing you stayed the initial 30 days with the sponsor.
>
> You may fax this information to 954-364-7011.
>
> Please do not reply to this email as the account this is
> sent from is
> not monitored for incoming mail and you will not receive a
> reply.
> Please use the contact form provided at our website.
>
> Thank you,
>
> Support"

My reply:

"lol @ their reply... That's funny. :) Hopefully after you fax them the remaining information you won't have to do it again.

Let me know if you hear anything new on Monday.

wozniack"

Member:

"So, I was just googling the fax number I keep sending stuff to for Nuitech. It's a fax number for a general contractor in Florida. Seems very close to the address for all Nuitech sites(the Davie Florida address). It has the guy's name and phone number on there(gcgeneral.com). Now that I have a phonen umber for the guy, I'm not even sure what I would say if I did call him. It's not like I want to piss him off or anything by calling him.
Another piece of info I have on them is from my neighbors who initially told me about consumerincentiverewards.com They actually have the receipt this guy sent to them with the iPad they received for their gift. But, the name on the receipt is different than the guy's name on the website.
I just got another email from Nuitech today saying they received all my stuff I faxed in, and now they will conduct an investigation as to why my sponsors never reported my involvement. And, then they will get back to me after it is finished.....I sent an email back to them saying I'm fine with the investigation thing. But, why would the lack of communication caused by their website prohibit or stop me from receiving my laptop? If consumerincentiverewards isn't getting a response from these companies due to their 'software program', then why is that my fault?
I guess at this point, I'll just wait until I hear back on this 'investigation' before I attempt to make any phone calls to this phone number I found. What do you think about all this? I guess this is turning into detective work lately..."

My reply:

"member,

Since Nuitech's fax number points to this man, he could be part of the company. However, you cannot know for sure unless you call the number and talk to the man. On the receipt is there a phone number anywhere? If not, you might try Googling the guy's name on the receipt for more info. Nuitech goes through the investigation process to learn why your offers were not reported. Once they find out, they should get back to you and hopefully work toward your approval. They may be checking with some of the sponsors. It isn't your fault. Nuitech desperately needs to fix their failed system before continuing their promotions, IMO. This hasn't worked from the beginning, and it never will unless changes are made. Before adding certain offers to their sites, they need to see which sponsors can report through their software program. I always thought it was ridiculous for the member to be tasked with getting the sponsor to report back. It should be Nuitech's job to get their sponsors to report an individual's successful offer completion. The member should only be required to provide the necessary documentation (billing statements, confirmations, invoices, screen shots, tax form, government-issued photo ID) upon request in addition to satisfying all other requirements of the gift program.

Wait for Nuitech to reply before dialing that number. If they refuse to pay you, or if their reply leads to another roadblock, then give it a try. Its worth it to get through to a live person who could possibly help. I just don't know how much assistance they could provide if it's a personal phone number, or one in which isn't at their main office. The detective work is ongoing with these companies, there is always something new to investigate and discover!

Let me know when you hear back from Nuitech.

Thanks,

wozniack"

Member:

"So, I just checked my Gift Status page. It shows all of my sponsors have reported back except for one. Nuitech emailed me a couple of days ago asking about this sponsor and any documentation I have for them. I told them I faxed the info into them twice, and I have at least two charges on my credit card statement showing payments to them. So, this should be easy to clear up for them. But, that's about where it stands now"

My reply:

"OK good. Let's hope they approve your last offer... What a struggle this has been.

Thanks for updating me on your status.

Good luck,

wozniack"

Member:

"Ok, can you interpret this email for me. From what I understand, it looks like they are essentially doing the same thing they did a couple of weeks ago which is ask me for all of my credit card statements, email confirmations, etc. but, where I'm a little fuzzy is the agreement form at the bottom. What is that? Have you seen that before? Is this the voucher form to get my gift?
I just a little curious because it says on one portion of it that "I will not receive the gift. I might have to return this gift...". Is this the standard form?

member
xxx-xxx-xxxx

Begin forwarded message:

> From: Consumerincentiverewards Support
> Date: February 15, 2012 9:22:00 AM MST
> To: xxxx@xx.com
> Subject: In response to your inquiry
>
> Dear member,
>
> Thank you for your inquiry. After reviewing your gift status, we do not
> have confirmation of the necessary number of offers.
>
> Please print out the form below and be sure to provide the following:
>
> - Your Billing Statement from the bank showing the first and second
> transactions (where applicable) - the statement must include your name,
> address and account number (block out the numbers except for the last 4
> digits)
> - The welcome email and/or invoice you received from the merchant
> - Any cancellation email in case the offer had been cancelled.
>
> We will review the information you provide and you will receive an email
> within 72 hours. We are able assist you with up to 2 offers.
>
> Please note, as of December 10, 2009, only one gift is permitted from
> the company identified under this site\'s Terms and Conditions per
> person and/or household for one year after your registration date.
> -----------------------------------------------------------------------------------------------------------------------
> Confirmation of Completed Offer(s)
>
> Please print this email form. Complete the form, keep a copy and fax it
> with the printed confirmations to the number below. Please print
> clearly.
>
> Email:
First Name:
Last Name:
>Street Address:
>City:
State/Province:
Zip Code:
Phone Number:
>
> Please list the merchant names for the confirmations included:
>
> By signing below and returning this form, I hereby certify that the
> information is accurate and complete, and agree under penalty of perjury
> to the foregoing and that I have not used any illegal, unauthorized,
> fraudulent or other means in breach of the program Member Agreement
> (Terms and Conditions). I am aware that a) I will not receive this gift,
> b) I may be required to return this gift or c) I may be required to
> compensate you for the monetary equivalent of this gift and I may be
> subject to civil and criminal legal penalties and that you shall pursue
> such penalties to the full extent of the law to protect your rights and
> the rights of your other licensors if you discover I have done so.
> __________________________________ ___________________
> Signature Date
>
> Please print this form, include it with the printed confirmations, and
> mail it to:
>
> Customer Service
> Attention: CS Pending
> Re: 643207
> 13762 W. SR 84 Suite 612
> Davie, FL. 33325 USA
>
> Or, please print this form, include it with the printed confirmations,
> and fax it to:
>
> Customer Service
> Attention: CS Pending
> Re: 643207
> Fax: 954 - 364 7011
>
> Please Note: Without this form completed in its entirety, we will be
> unable to process your confirmations.
>-----------------------------------------------------------------------------------------------------------------------
> Please do not reply to this email as the account this is sent from is
> not monitored for incoming mail and you will not receive a reply.
> Please use the contact form provided at our website.
>
> Thank you,
>
> Support"

My reply:

"Hi there,

That's the standard MCR form; it's been around for ages. You will need to provide your name, address, offers, then attach the bank statement and send them the welcome and cancellation e-mails. On this part, "I will not receive the gift. I might have to return this gift...", don't worry about that. Most DIY companies state that in case a member breaches their gift programs terms and conditions.

wozniack"

Member:

"So, do you suggest I physically mail all of it in or fax it all again, or both?"

My reply:

"I would fax it all to them so they get it faster. Of course you can mail it as well.

wozniack"

Member:

"So, that is the gift voucher form I just filled out and sent in? What do you think? Am I pretty much on my way to the laptop? Or, could there be anymore hangups from here? How long will it take from here to get the laptop? Another month or two?"

My reply:

"Once you send in the manual credit form with all documents, you will get the next e-mail. If you're owed more than $600.00, you will get the w-9 e-mail and that must be notarized. It is unclear if Nuitech still does the gift voucher, as they waived my friend's but required a w-9 form for the new year. I know for a fact gifts under $600.00 probably get the voucher form waived, that happened to my friend last year. But that only works if you did not receive any other gifts yet that make your total over $600.00 or you are back to the w-9 form e-mail again. Gifts ship within 6 to 8 weeks as per the terms and conditions, but you may receive your laptop within 2 weeks or so.

wozniack"

Me again:

"Hi member,

Have you made any progress with your gift? Since it's Monday, I thought you might have heard back from Nuitech regarding your gift.

Thanks,

wozniack"

member:

"I was hoping I would hear something by today, but nothing yet. I'll email them again. I know they love that

member
xxx-xxx-xxxx"

What about gcgeneral.com? The site this member found... Is the general contractor, Gilberto Martins, out of Coconut Creek, Florida, connected to Nuitech?

Nuitech's fax number: 954-364-7011

GC General, Inc. contact page: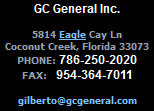 url: http://gcgeneral.com/contact.htm

GC General Inc's other address:




Same fax number as Nuitech... The only way to know for certain is by calling him. At least this member is close to finishing. I'll update my blog again on this member's status next month.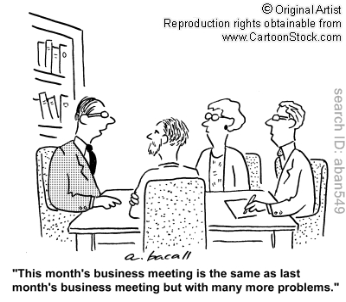 My letter to Nuitech:

"from [Available] xxxx@xx.com xxxx@xx.com
to contact@oglogistics.net
date Tue, Feb 14, 2012 at 4:54 PM
subject Attn: xxxxx, Verifications Department
mailed-by xxxx.com

hide details Feb 14 (3 days ago)

February 14, 2012

::name inserted here::
Verifications Department
OG Logistics, LLC.
1613 NW 136th Ave
Suite 100
Sunrise, Florida 33323

Dear xxxxx,

There is great concern for the functional difficulties in your gift program, The Useful. The first problem is the required "additional information", which the sponsors can't always provide. This information consists of cancellation e-mails, exact dates on welcome e-mails, and first and second charges from sponsors. On the cancellation e-mails, the sponsors do not always send you one after you cancel an offer. You may get a 'return e-mail' to return the product, or the sponsor will send you an automated e-mail which won't show the actual cancellation date. And you sometimes never receive the welcome e-mails; upon your request, the sponsor often sends you one with a wrong sign up date. As for the first and second charges, some sponsors give you 30 days free, so you can't cancel on day 30, and there won't be a second charge in the first 60 days to produce this documentation.

The next issue is the sponsors not reporting through your software program. Many of them cannot because they don't know how. The sponsors need to be instructed on how to use it so that your members are credited for their offers. Now for my suggestions... Address a letter to your sponsors. Properly explain to them how to utilize the software program. It can be a friendly welcome letter of sorts, but one of which contains these details. What I'm suggesting now is an "offering screening"; we need to know which sponsors provide the aforementioned "additional information" so members do offers they can obtain this information from. If a sponsor cannot give your members this additional information, they should be removed from your gift sites. To make this work, your company must screen the offers or hire a "tester", someone willing to try each offer and give you their evaluation.

If this persists, your members may stray from your gift sites, and your company's reputation may potentially be damaged. I'm looking out for everyone here. I am willing to provide more suggestions if you're interested.

I hope you take this into consideration, or forward this to the appropriate department. Thank you for your time.

Sincerely,

Anonymous"

By sending this letter, I know someone will read it, and it may get their minds going! They need a better framework for dealing with these problems, namely the "software program." I kept the person's name in the Verifications Department private so they wouldn't be bothered. My letter alone is probably more than they want to see.

Nuitech has a new DBA, Coffee Shop Boys, LLC. Haha, they love their java? We'll compare my findings, which will explain the DBA name that ties into a Georgia-based coffee shop. c[_]

whois info:




T&C with new DBA:




Although retail-surveycentral.net, Nuitech's gift site, results in an error page I found their terms. The terms clearly state the DBA is Coffee Shop Boys, LLC. Now let's view a whois report for this domain: retailsurveycentral.net; the same as the other just without a hyphen.

whois info: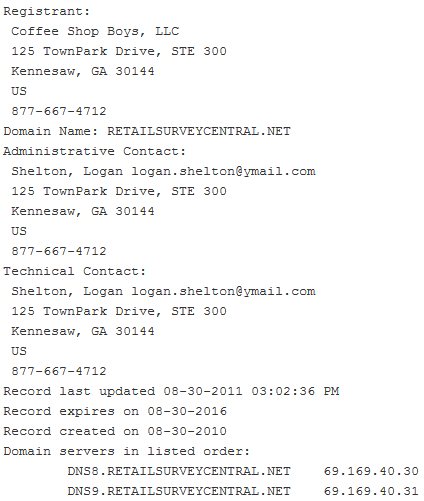 The administrative and technical contact is Logan Shelton, and has the coffee shop's location as the address. But scroll up to the whois for retail-surveycentral.net... Nuitech created this domain on September 2, 2010, and it expires September 2, 2012. And retailsurveycentral.net was created 3 days before retail-surveycentral.net, and doesn't expire until August 30, 2016. Since retailsurveycentral.net, registered to the coffee shop, expires August 30, 2016, "Coffee Shop Boys, LLC." must be tied into Nuitech with that being Nuitech's current DBA. Both are active; Nuitech's DBA, Coffee Shop Boys, LLC., and the domain retail-surveycentral.net registered to the coffee shop. The site may be down, but the domain is good until August 30, 2016 with Nuitech and the coffee shop sharing the same name.

Coffee Shop Boys contact us page: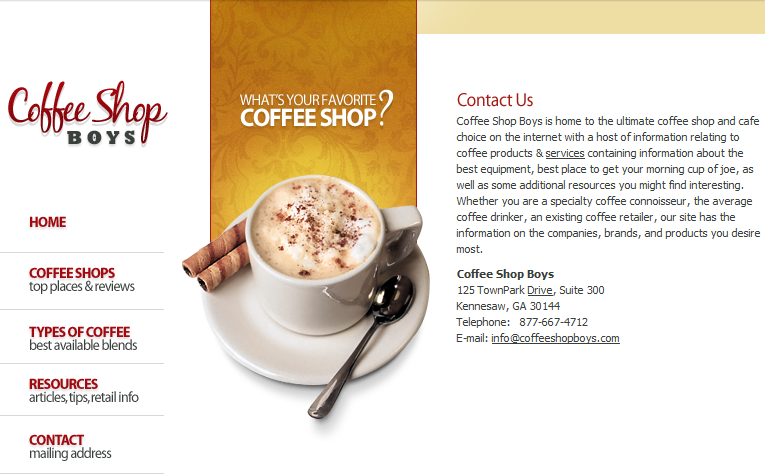 url: http://coffeeshopboys.com/contact.html

The contact page has the same address and phone number as the whois info for retailsurveycentral.net, the domain registered to Coffee Shop Boys, LLC., a Nuitech DBA.

CRS finally spoke to our anonymous source! But first, check out Part 1. of February's blog if you missed it: DIY rose bouquet delivery, Part 1. -- I will post my correspondence with this individual as it is an excellent source of information. It may help some of you get approved after Dave's dismissal.

My e-mail to anonymous source:

"from: xxxx@xx.com xxxx@xx.com
to: xxxx
date: Thu, Feb 16, 2012 at 2:45 PM
subject: Re: Re
mailed-by: xxxx.com

member,

I hate to bother you again, but have you heard anything back yet? If not, that's okay... I just wanted to see if you had as a few members are in need of an e-mail address for CRS as they are trying to make progress with their gifts.

I appreciate you going out of your way to get this for us. If you hear anything, please let me know.

Thanks,

wozniack"

Anonymous source:

"from: member xxxx@xx.com
reply-to: member
to: "diyfreebies@gmail.com"
date: Thu, Feb 16, 2012 at 3:27 PM
subject: Re: Re
mailed-by: xxxx.com
signed-by: xxxx.com

No nothing. They are being really difficult about calling me back at all. I am going to call them yet again."

Anonymous source's second e-mail:

"from: member xxxx@xx.com
reply-to: member
to: "diyfreebies@gmail.com"
date: Thu, Feb 16, 2012 at 5:14 PM
subject: Re: Re
mailed-by: xxxx.com
signed-by: xxxx.com

Okay so I called them yet again. This time the rep put me on hold to talk to a manager that was actually there.
They are telling me now that they cannot give out that type of information. I ask why they didn't tell me this in the first place.
They said it is because this is the first time they actually had the answer to my question being that a manager was there today
right when I called. They did give me a physical address they said I could try sending confirmation emails and other info directly to the
company. They also said that they were a third party company hired to handle the customer service portion and that is why this info could
not be given. Apparently there are a lot of new managers, new rules, as well as new sites in place. I am going to attempt to go through the sites
support ticketing system to see if an actual person writes me back. That is how I got a hold of Dave in the first place when he was working there.
( I miss Dave LOL) I personally never liked the ticketing system as usually they review your inquiry and then close it without actually answering your questions.
I am really sorry I could not be of more help. This whole change of things has gotten me kind of at a stand still as I do not want to complete anymore sites until I feel more at ease. I would like to know that there is in fact someone who physically sends out the checks. FYI, I do not believe there are any actual products like they have advertised. I truly believe they only send out checks as there would be too much cost in having to actually run a warehouse full of laptops etc. It is so much cheaper to send out a piece of paper as apposed to a product that could actually break during transit. Which is a whole other problem all together. Why they don't send out gift cards, I have no idea. You will notice in their updated rules they have written that they reserve the write to send a check etc.

Here is the address they gave me:
7251 West Lake Boulevard
Suite 300 Las Vegas, Nevada 89128

If you have any suggestions on what else I could do, please I am all ears. I personally have never done any other sites because most
(not all) other sites require too much money to be spent.
That is why I have been such a faithful CRS follower. I don't completely trust them as you never know with big companies.
Sigh... I just don't know what I am going to do. I am sure I will do another site but I am not sure when.
I truly hope the other members are able to get results soon. Patience is key. :)"

My reply:

"from: diyfreebies@gmail.com diyfreebies@gmail.com
to: member
date: Thu, Feb 16, 2012 at 8:36 PM
subject: Re: Re
mailed-by: gmail.com

member,

WOW.. The information you've given me is excellent! I'd like to know the name of the third party company handling customer service for my records. Good idea. Try the support tickets anyway to see if you get a reply. I miss him too, lol... He was a great guy. Wonder what he's doing now? It's going to be harder having to mail everything in. It'll be more like Nuitech where you must mail off your documentation; however Nuitech allows you to fax your confirmations and other materials. My gut feeling was that CRS never had any any products, and for the same reason you gave me.

Dave told a member this once:

"I am having trouble ordering your gift card online. (American VS Canadian issue)
I can replace your gift card with a check in the amount of $1000.00 USD and you can use for anything you like.
The check will be a bank draft and will send it registered mail. This will happen the third week of November.
Let me know

Dave"

Wasn't entirely sure I believed him... Part of me thought the "American VS Canadian issue" was an excuse to send a check. They probably just advertise laptops and gift cards like many other DIY companies and only pay with a check. I will take a glance at their updated rules. When things like this happen with DIY companies, I take a step back and wait before I do them again. They don't seem like a total scam after all the money they've paid out; but as time goes on companies change, you never know what they might pull. I suggest taking a break from them until you feel more at ease. Maybe do an I-Deal site? They paid me $1,250.00 on my last site-- a $1,000.00 all on ONE Visa (nice!!) in December, and my $250.00 bonus check in January. Someone had a crediting issue with them recently, but there are others who have said their crediting system has improved. So I don't know what to say about that, other than to be careful. If you do your offers all in one sitting and only 2-3 credit, then there's a big problem. I would then suggest doing no more than 1-2 offers at a time, taking it a section at a time. Unfortunately, I don't have too many good links right now... I'm hoping some better deals appear this spring.

Thank you for providing me with this information. You've been a BIG help because we now have an address to send our confirmations and billing statements to! I was getting worried since we had nothing to work with, and there are members trying to get approved but couldn't without Dave. :)

Thanks again,

wozniack"

Anonymous source:

"from: member xxxx@xx.com
reply-to: member
to: "diyfreebies@gmail.com"
date: Sat, Feb 18, 2012 at 12:24 AM
subject: Re: Re
mailed-by: xxxx.com
signed-by: xxxx.com

You are very welcome! :) IF I get a response through the ticketing system (I won't hold my breath hehe) I will let you know right away.
I also plan on communicating through this system more than once. I am hoping that if I am persistent enough someone will reply.
Just one reply should be enough, because (as we all know) when an actual human being responds they usually leave a first name. I will then turn around and
reply to the email that response came from. Like I said, that is exactly how I got a hold of Dave. I was then SUPER NICE, and he became my friend.
I have since then left him alone, even though I still have his personal cell number. So sad he had to leave, they really should have renewed his contract.
He did a phenomenal job. Hopefully someone else will learn a thing or two from him at CRS. Time will only tell. If this address works out and there is progress,
would you let me know? I would really appreciate it. Many Blessings to you and all members! :)"

My reply:

"from: diyfreebies@gmail.com diyfreebies@gmail.com
to: member
date: Sat, Feb 18, 2012 at 1:06 AM
subject: Re: Re
mailed-by: gmail.com

Absolutely! I'll let you know right away if I hear there is progress with the address. Dave was amazing at what he did. He stayed on top of everything, and even worked weekends which earned him an extra star from me! Can't understand why they didn't renew his contract... Well, I guess they let him go so the third party company could handle support? They may or may not replace Dave with another main guy, hm... It will be interesting anyway to see if someone responds to your tickets. :))

Thanks again for all you have done. My readers and I are very grateful for the information you have provided.

Sincerely,

wozniack"

Anyone needing to be processed should send their confirmations and billing statements to:

7251 West Lake Mead Boulevard Suite 300
Las Vegas, Nevada 89128

Include a letter explaining your situation, and that you're trying to get approved for your gift. Also give them the e-mail you registered with, and your phone number for them to reach you. This was the best our anonymous source could do. I hope the address helps you all with your gifts. If you have any questions, send me an e-mail: diyfreebies@gmail.com -- Anonymous, thank you for everything! I appreciate all you have done.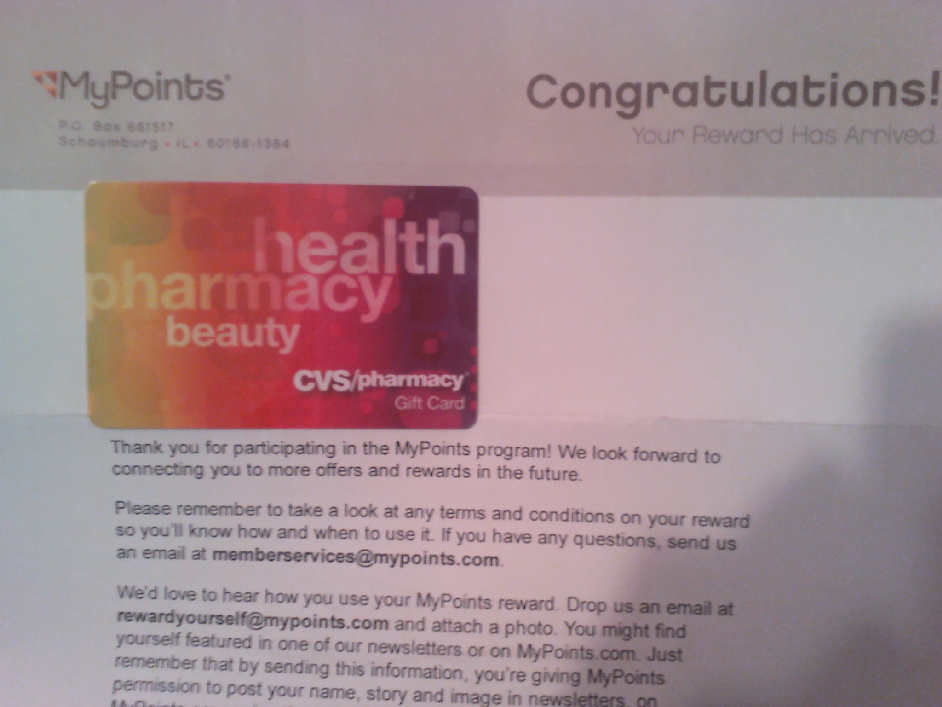 My $25.00 CVS card arrived, and I'm waiting on $75.00 in amazon gift certificates. Thanks MyPoints!

Hatful of lucky shamrocks offer these deals...




*links 'n such*

I-Deal--

http://www.giftcardsurveys.us.com/?config=7543 - 10 offers, 1 ref/$500.00 Visa

http://www.giftcardsurveys.us.com/?session_id=0817855c5aad11e1a4d686fbb7df804b - 10 offers, 1 ref/$500.00 Visa

www.e-researchcenter.us.com/?config=7198 - 10 offers, 2 refs/iPhone 4, iPad 3G, Macbook or iPod Nano

http://www.saveandsmile.com/?config=7628 - 8 offers, 1 ref/$500.00 restaurant gift card of your choice

http://www.saveandsmile.com/?config=7433 - 10 offers, 1 ref/$500.00 Footlocker gc

http://www.giftcardbonus.us.com/?session_id=2ec5b98c5a8311e19f18e39e3a697067 - 10 offers, 1 ref/$500.00 restaurant gc of your choice

http://www.consumergiftcenter.us.com/account.cgi?config=7019 - 10 offers, 2 refs/$1,000.00 Visa gc

Nuitech--

http://gascards.giftcertificatedelivery.com/form/iframe/10885/9109/?&ref=10885 - 10 offers, no refs/iPad 2

http://www.gatheringopinions.com/rd_p?p=207753&t=18440 - 6 offers, no refs/$250.00 restaurant gc of your choice

producttestpanel--

http://retailbrandprize.com/tjmmiyo/index.php?lid=tjmmiyo_12967_PFTEST&add_offerid=934582&addomain=promolnk.com&addomain_id=89&uniclk=true – 13 offers, 3 refs/$1,000.00 T.J. Maxx gc + misc. gifts

http://mysterymallshopper1.com/secretzas/index.php?lid=secretzas_15029_{affiliate_id}&aff_sub={aff_sub}&add_offerid=4562611&addomain=avcounter10.com&addomain_id=67&uniclk=true – 13 offers, 3 refs/$1,000.00 merchant gift card of your choice + misc. gifts

http://retailstorereport.com/scshopzas/index.php?lid=scshopzas_15029_{affiliate_id}&aff_sub={aff_sub}&add_offerid=24231725&addomain=sbfollow10.com&addomain_id=61&uniclk=true – 13 offers, 3 refs/$1,000.00 merchant gift card of your choice + misc. gifts

I'm happy we have an address for CRS; it's not an e-mail address but it will do. Our anonymous source did great. As for Nuitech, I hope they take what I said into account. As long as they read it, I don't care if they ever respond. If anybody else needs Nuitech help, please do not hesitate to ask. I love helping my readers!

Take care,

wozniack